About C.Y. Tung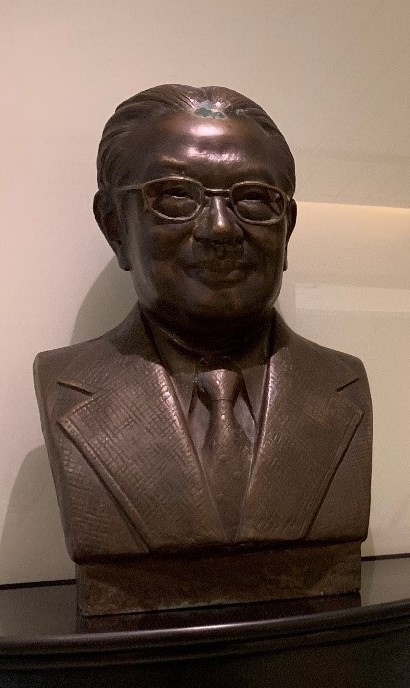 C.Y. Tung (1912-1982), the shipping pioneer of contemporary China, built up an empire comprising a fleet of over 150 ships totaling eleven million tons, making him one of the largest independent shipowners of his time. The companies he founded, Chinese Maritime Transport, Island Navigation and Orient Overseas Container Line are still active today. His fleets included container vessels, tankers and bulk carriers including M.T. "Seawise Giant", constructed in 1979, and still the largest ship in the world. Imbued with a profound sense of his Chinese heritage, C.Y. Tung valued, above all, education, family values and lasting friendship. His contribution to the education sector is best remembered by the conversion of the former liner "Queen Elizabeth" into the "Seawise University" in 1971. While other vessels have replaced the original liner, and the sponsors have evolved over time, the "Semester at Sea" academic program continues even today.
a lane Chinese who made the world his classroom, his place of business and his home, and became a legend in his own lifetime
C.Y. Tung, his vision and legacy, 1984, page 101
During his lifetime, C.Y. Tung built up a stupendous shipping empire comprising a fleet of over 150 ships totaling 11 million tons.
1st CHINESE SHIP TO CROSS
THE ATLANTIC, 1947
THE LOONG (1946-50) 10,471 dwt, bulk carrier
1st NEW SHIPBUILDING IN FRANCE
ORIENTAL STAR (1957-83) 13,561 dwt, bulk carrier
1st SHIPBUILDING IN JAPAN
ATLANTIC FAITH (1958-79) 23,044 dwt, bulk carrier
ONE OF THE WORLD'S LARGEST SHIPS IN 1950s
ORIENTAL GIANT (1959-79) 70,000 dwt, tanker
1st CHINESE-OWNED REGULAR BULK & PASSENGER LINER
RU YUNG (1962-82) 12,431 dwt
1962 Far East / USA
1967 Far East / Europe
ORIENTAL RIO (1968-73)
1968 Far East / South America / South East Asia
1st NEW BUILDING CONTAINER
ORIENTAL LEADER (1971-82) 26,664 dwt
LARGEST TANKER IN THE WORLD
SEAWISE GIANT (1979-89) 564,739 dwt, tanker
PASSENGER SHIP
CONSTITUTION (1974-82) 20,269 dwt
Cruise ship for Hawaii Islands
INDEPENDENCE (1974-82) 20,251 dwt
Cruise ship for Hawaii Islands
PRESIDENT WILSON (1973-84) 15,456 dwt
Renamed ORIENTAL EMPRESS
PRESIDENT CLEVELAND (1973-74) 15,450 dwt
Renamed ORIENTAL PRESIDENT
SHIPBOARD UNIVERSITY
QUEEN ELIZABETH / SEAWISE UNIVERSITY 
(1970-72) 82,998 dwt
UNIVERSE CAMPUS (1971-76) 13,950 dwt
Renamed UNIVERSE (1976-95)
UNIVERSE EXPLORER (1996-2004) 22,162 dwt
 
Video